About us
Established in 1996 by Cliff and Kath Smith, we made it our mission from day one to provide exceptional service, care and boarding kennel standards for our four-legged friends and their families.
Over the years, we have built an excellent reputation as a Kennels and Cattery and have made some wonderful and long-standing friendships along the way – something we are very proud of. We conduct very little advertising, thanks to much-appreciated word-of-mouth recommendations from our loyal customers.
Naturally, we become very attached to the animals we board – most of whom regularly return each holiday period. Sadly, dogs and cats don't live as long as we do, and inevitably we have had to say goodbye to many much-loved pets over the years, including our own.

For many years, we kept Irish Setters. All were rescues and some had major health problems. They were real characters though, known to all our customers if only for being opportunists (Floyd will always be remembered for the meat pie he stole off the back seat of someone's car!).
Our menagerie of pet animals is not so large these days. The goats and sheep have left good memories, having provided great TV for several years for the cats in our cattery! Today instead, our feline guests enjoy watching the antics of our four feathered girls, Chickaletta, Hermione, Skye and Penny (all named by my grandsons!).
We are inspected annually by the Environmental Health Dept at Craven District Council, who awarded our Kennels and Cattery the much-coveted five-star status. We enjoy an excellent relationship with the dept and have involved them in all aspects of our business development over the years. We are also pleased to have the confidence of the local vets, many of whom board their dogs and cats with us.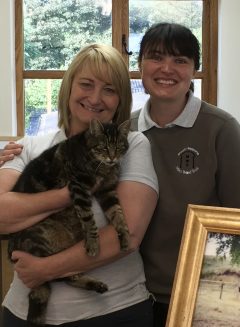 In 2014, Cliff sadly lost his brave fight against long-term illness. His spirit, along with his meticulous service and care standards, live on here at Banks Ghyll – upheld not only by me but also my fantastic manager for over a decade, Samantha, and our dedicated part-time team.
Please drop us a line or pick up the phone – we're always happy to answer questions and will do our best to accommodate requests. We try to be flexible… because that's what we would want.
Call 01535 636701