Facilities & Services
Banks Ghyll Kennels and Cattery is situated on the edge of the Dales Village of Lothersdale. The kennels enjoy a quiet and tranquil environment set in over four acres and surrounded by farmland. We are licensed by Craven District Council for 20 Cats and 50 Dogs.
Each kennel or cat unit has an infra-red heat lamp and the indoor sections are weather-proof. Each kennel also has an outdoor run with 24-hour access.
We provide all beds and bedding, which is checked and changed daily if necessary. However, if you would like to provide your own bedding, we will wash and return to owners on departure whenever possible. Owners are encouraged to send in toys, comforters etc.
The kennel day is designed to allow the dogs and cats the maximum amount of human contact. Dogs and cats are checked throughout the evening after the day staff have left.
All animals are insured through Brookes Braithwaite  (Pet Plan 5*).
Dogs or cats who are taking time to settle, are of a nervous disposition or showing a poor appetite are closely monitored and have extra time spent with them.
We cater for a wide range of diets and offer an 'A La Carte' menu. Owners may provide their own food, for which a small allowance is made.
Cooked chicken, meat etc. can be sent in frozen and will be defrosted and reheated if needed. Similarly, we scramble eggs and serve cereals at breakfast if desired!

All boarding pets require a current vaccination certificate.
We do NOT require dogs to have the kennel cough vaccine. However, if you choose to have this vaccine you must allow two full weeks before coming into the kennels.

We are happy to give any regular medication. Animals requiring injections out of hours may incur a small daily charge.

All dogs and cats are checked over and brushed regularly and on departure. Our grooming salon allows you to book a bath for your dog on departure (separate charge applies).

Dogs are exercised individually twice a day – in the morning and a long play in the afternoon – in purpose-built large exercise fields. These are securely fenced with safety corridors. Older dogs and puppies are taken out frequently.
Owners may request additional walks for a small charge.

Day boarders are welcomed.  We can arrange arrival and collection times to suit.

We offer a  'Cats at Home Service'. Please enquire for further details.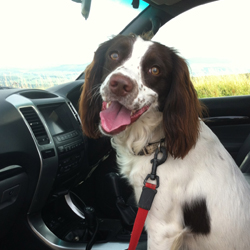 Collection and delivery is available, charged by distance.
This can be arranged at the time of booking.
Currently our charges are 40p per mile (subject to alteration).